Todd Mission Volunteer Fire Department Appreciation Lunch:
In June of 2019, Smith & Burgess coordinated an appreciation lunch for the City of Todd Mission's Volunteer Fire Department at their station. Located in Grimes County and immediately next door to the area's highly-popular Renaissance Festival, the City's fire department covers 30 square miles and approximately 6,000 residents.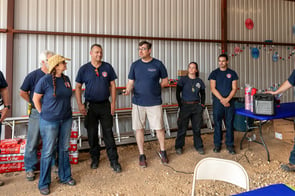 During the lunch, the department's 31 active Firefighters were in attendance and conducted fire safety, equipment, and vehicle demonstrations. Several members of the Smith & Burgess team were also present, including Dustin Smith, co-owner, and close friend of the fire department.
"The City of Todd Mission is quickly expanding and we want do our part to help the TMVFD in their dedicated commitment of keeping the city and its residents safe."
On behalf of Smith & Burgess, Mr. Smith presented the department with a $10,000 donation. Cassandra Malone, Todd Mission's Fire Chief, accepted the contribution and stated the funds would significantly contribute to their ongoing efforts.
"Thanks to Smith & Burgess' extreme generosity, we plan to equip our team with proper wildland gear."
Wildland fires are a significant threat to the City of Todd Mission and its extended area. In October of 2015, Texas Governor Greg Abbott declared a state of disaster in Bastrop County, where a wildfire destroyed 38 structures (mostly residential homes) and razed nearly 4,500 acres.
Located less than 100 miles west of Todd Mission, many TMVFD firefighters were called to help extinguish the blaze. Former TMVFD Chief Tom Godfrey noted,
"We are located in the middle of a heavily forested area of Texas. Contributions like this will greatly aid in our ability to keep fires from spreading and keeping our communities safe."
If you are interested in supporting the City of Todd Mission's Volunteer Fire Department, you can contact Fire Chief Malone through their Facebook page.