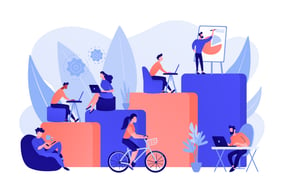 As we pass the two-year mark from the onset of the COVID-19 pandemic, we can look forward to increasing normalcy while looking back at the ways the past two years have changed us.
Unfortunately, the oil and gas industry was hit particularly hard as commuters and travelers stayed at home, foregoing trips and commutes for isolation, social distancing and makeshift work-from-home "offices." Oil prices fluctuated dramatically throughout the year and what started as a strong year quickly plummeted to an all-time low in April 2020 when crude oil traded at negative prices. Thankfully, as the market stabilized, oil prices began increasing again.
Throughout 2020, many difficult decisions were made: businesses, offices and refineries closed, and layoffs world-wide caused unemployment to skyrocket. Despite these difficulties, many businesses adapted. Gone were the days of in person meetings or post-work happy hours. Instead, many of us worked from home, calling into video / conference calls, chatting online with our coworkers and video calling family and friends. These days of socializing and collaborating through screens were difficult, but in the business world, dedicated employees, and companies dedicated to their employees, prevailed. Smith & Burgess adapted like many other companies during this time, shifting quickly to working remotely, collaborating and keeping in touch via Microsoft Teams chats and video calls. We were able to use this downturn to focus on one of our company values: Expertise. Our engineers spent their once billable time working together to develop training content to keep our skills sharp for when the orders started coming back in. Our engineering staff came out of 2020 with more breadth and depth of knowledge about relief systems than when the year started.
As 2020 wound down, we looked towards 2021 with hope - hoping for more social activities, seeing loved ones in person, renewed normalcy, and most importantly less living life through a screen. Although some of this came to be, 2021 was not the return to normalcy we had hoped for. Remote work and social distanced events continued. Vaccines did provide some comfort and protection, but waves of variants (namely Delta and Omicron) caused more lockdowns and continued remote work for many. Thankfully, despite all that, the markets recovered, and we continued to adjust to the new normal. For Smith & Burgess, 2021 was a difficult year, but thanks to our resilient employees and dedicated customers, we made it through.
This year started much like 2021: with hope. Unlike 2021, though, as we move through the year, we are excited to see our hope turning into reality. In the past few months, we have started to travel more, seeing customers and visiting the sites we've missed. Soon we will be returning to the office - we are excited to see the faces of our friends and coworkers and be able to collaborate with one another in person again. We have seen an uptick in projects and are enjoying keeping busy, doing the good work of process safety.
So, here we stand, stronger from the struggles we have weathered and looking at the future with cautious optimism. We're looking forward to a promising 2022.